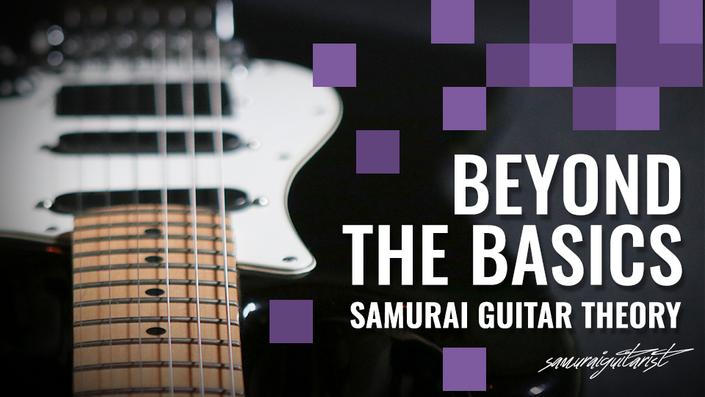 Beyond the Basics
An intermediate course designed to take your understanding of guitar to the next level.
Watch Promo
This course is designed for the intermediate guitarist looking to take their understanding of the instrument to the next level. The theories we look at show us the impact our musical choices will have on a listener. Gaining a deeper understanding of these guidelines makes creating music easier and more fun.
We first examine everything we need to know about intervals followed by a look at four note 7th chords and how to play them. We then expand on these, learning how to build extended chords and analyzing the theory of chord functions. From there we will do an in depth break down of what modes are, how modes relate to chords and how to apply the modes practically.

Each lesson is accompanied by a quiz, a list of things to practice and detailed documentation. This course encompasses a huge portion of the musical journey and will open up worlds of possibilities for you on your instrument.

Course Curriculum
Part 1 - Getting Started
Available in days
days after you enroll
Part 2 - Intervals
Available in days
days after you enroll
Part 3 - Seventh Chords
Available in days
days after you enroll
Frequently Asked Questions
When does the course start and finish?
The course starts now and never ends! It is a completely self-paced online course - you decide when you start and when you finish.
How long do I have access to the course?
After enrolling for a one-time payment, you have unlimited access to this course for as long as you like - across any and all devices you own.
What if I am unhappy with the course?
How much experience do I need for the courses?
Beyond the Basics starts where the Rudiments leaves off. Check out the course itinerary for The Rudiments, if all of this is stuff you feel confident with then you are ready for Beyond The Basics.
Is there a certain genre that these courses work best for?
What I teach is music theory and how it applies to guitar. This is not genre specific though classical musicians look at these things slightly differently than the rest.
I don't play guitar, will these courses help me?
The concepts I teach are universal and apply regardless of instrument. But be aware, I do spend a fair bit of time looking at how it specifically applies to guitar.
Lot's of guitarists offer courses, why should I get yours?
There are lot's of options out there, what makes each course unique is the person teaching them. If you enjoy learning from me on YouTube, you will enjoy these courses. Especially since the animating in my courses was outsourced and is beyond anything I could do on my own.
Your Instructor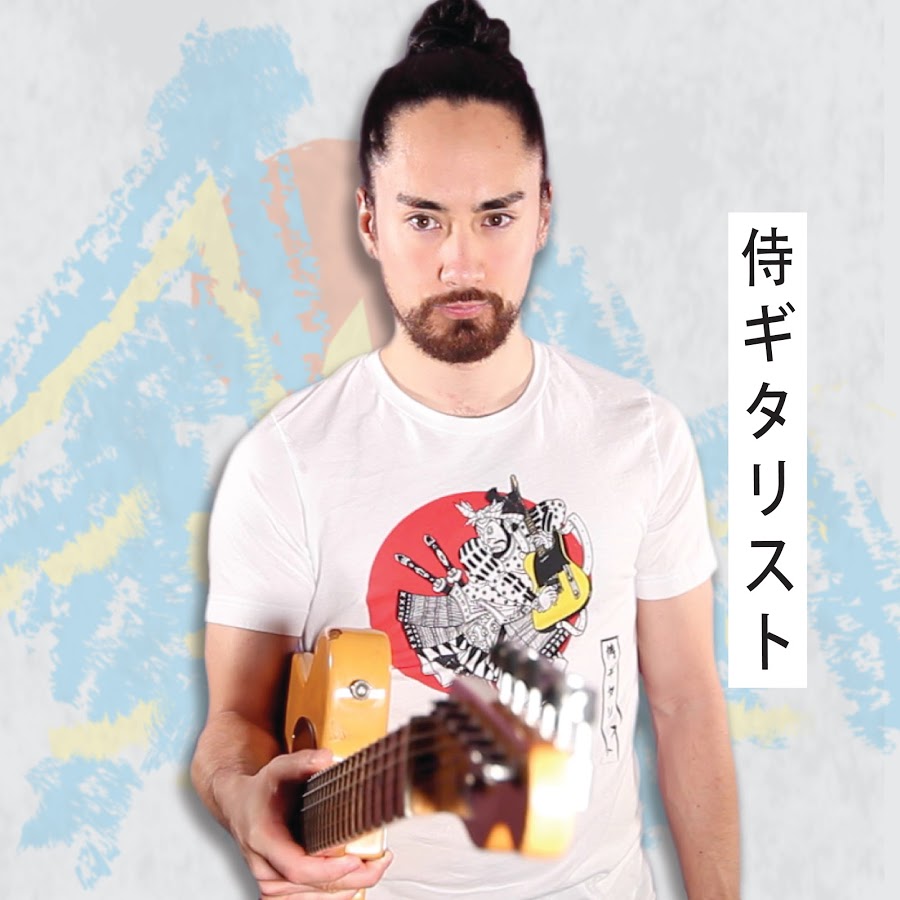 samuraiguitarist brings his work to the world on YouTube, with an eclectic style that mixes rock, country, and jazz influences that bring new life to familiar favorites. A background rooted in songwriting and a driving passion for music help his work truly shine, making samuraiguitarist a musician you'll definitely want to get familiar with.

Sammy G's musical journey began at age 13, after he saw rockers Blink-182 perform their hit "All the Small Things" on the MTV Video Music Awards. samuraiguitarist notes, "I asked my parents if I could take up guitar the next day. They were slightly reluctant at first […] but I eventually persuaded them." The young musician began taking guitar lessons, eager to learn as much as he could, and by age 16 was playing in his own band around his hometown of Winnipeg.
samuraiguitarist's passion took him to Toronto and Humber College, where he continued to study music. While his initial interests were in classic rockers like Led Zeppelin, Guns N' Roses, and Aerosmith, music school expanded his tastes. The guitarist began listening to jazz, citing Wes Montgomery and Pat Metheny as some favorites. But something clicked when samuraiguitarist began listening to country music, which he felt, "sounded like classic rock and roll with a slight twist." He began to focus on songwriting, with a plan to focus on writing mainstream country songs.
samuraiguitarist's songwriting goals brought him to Nashville multiple times, with the creator constantly writing songs and hunting for inspiration. "I'd walk through the world with 'songwriter glasses' on," says samuraiguitarist, "always looking for little phrases or ideas that could inspire a song." That observational ability would be an asset as he began creating YouTube videos. Now, he walks the world with "video glasses," looking for anything that might inspire his next work.
The guitarist was inspired to share his music on YouTube after he saw a friend's band have success on the platform. At first, he gauged interest by sharing short 15 second music clips to Instagram, and after gaining a small following decided to make the jump to longer format videos on YouTube. samuraiguitarist blend his musical influences of rock, country, and jazz for original, unique covers. Even more impressive is the fact that he arranges the covers for multiple instruments, and plays all the parts, and edits them together for a seamless display of musical prowess.
Ultimately, samuraiguitarist's glad he was able to find his passion early on. "If you have a clear idea of who you are and what you want to do, the only thing separating you from that goal is time and effort," says the guitarist. Thankfully, he's putting that time and effort into producing even more killer videos.